Our patients can trust in the consistently high and meticulously checked quality of Juzo medical aids.

Juzo's compression products are manufactured almost exclusively in Germany and in the US. Only top-quality materials are used that are subject to strictest quality standards.

As a founding member of the Quality Mark Association for Medical Compression Hosiery (Gütezeichengemeinschaft Medizinische Kompressionsstrümpfe e.V.), Juzo played an important role in defining the special quality requirements for products used in compression therapy. These requirements are part of the RAL standard today, and a basic requirement for an inclusion in the catalogue of therapeutic aids. In 1998, Juzo was one of the first enterprises in the sector to introduce a general quality management system. Juzo is currently certified according to the rigorous standards DIN EN ISO 9001 and DIN EN ISO 13485. Yearly audits carried out by the certification body confirm the consistently high quality standard at Juzo.

Juzo is entitled to feature the following quality seals:
Oeko-Tex standard 100 certificate
Oeko-Tex is a globally standardised, independent auditing and certification system for textile raw, semi-finished and finished products of all process levels. The more intensive the skin contact of a product, the stricter the requirements regarding its safety for humans and the environment it must fulfil. Juzo circular and flat-knit compression fabrics are Oeko-Tex standard 100 certified. Juzo can therefore ensure that all components of a product are safe for humans and the environment and do not pose a health hazard. The requirements of the Oeko-Tex standard 100 are significantly stricter than existing national legislation.

ISO certification
Julius Zorn GmbH introduced a general quality management system as early as 1998, and was one of the first companies in this sector to receive EN ISO 9001 and EN ISO 46001 certifications. Juzo is currently EN ISO 9001 and EN ISO 13485 certified, the successor of the previous EN ISO 46001 standard.

RAL quality seal
Juzo medical compression stockings comply with applicable RAL requirements. All mandatory guidelines for the manufacture of medical compression stockings and sleeves are specified in the testing stipulations.

These apply for:

the material composition (harmless for humans and the environment)

the regular audits, e.g. at the Hohenstein Research Institute

the rubber-elastic properties in lengthwise and crosswise direction

the compression classes 1–4 (for sleeves compression classes 1–3)

the manufacture of stockings in standard and custom-made sizes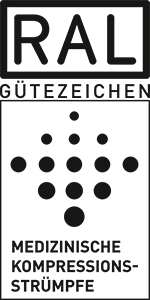 UV standard 801
Juzo ScarComfort-products offer optimal UV protection with sun protection factor (SPF) 80 according to the UV Standard 801. The protective effectiveness is audited and certified by the Hohenstein Institute.